Kelan is a company that belongs to the Ondoan Group. Its activities mainly focus on the following: Fire Protection and Industrial Facilities and Maintenance. Over time, it has built a reputation in both fields.

FIRE PROTECTION
•Fire Detection and Alarms.
•Water Supply.
•Extinguishers, Fire Hose Cabinets, Hydrants and Dry Riser Pipes.
•Sprinklers, Water Spay, Water Mist, and Foam.
•Fire Suppression using Gaseous, Powder, and Aerosol Systems.
•Smoke and Heat Control.
•Emergency Lighting and Signage.
•Passive Protection.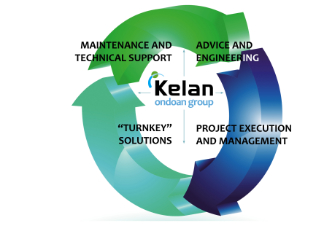 INDUSTRIAL FACILITIES AND MAINTENANCE
Electromechanical Maintenance
•Preventive, Corrective and Legal Maintenance.
•Routine Maintenance and Systems Operation.
•Computer-Assisted Maintenance Management.
•Supplies (Planning & Control).
•Automation, Adjustment and Control of Processes and Facilities.
Industrial Facilities
•Water Supply and Treatment.
•Cooling Systems for Machinery.
•Pneumatics and Hydraulics.
•Heating and DHW.
•Pressurised Equipment.
•Fluids Networks.
KELAN, S.A.U.
Pº La Vega, Ibarra Kalea, nº 10 – Pabellón 7
48300 Gernika. Bizkaia
Tel: 946 255 450